The top Wisar's team tips to work with flexibility
At Wisar our 100% flexible team is made up of experienced and dedicated people who all share a passion for flexibility at work. And not just for ourselves, but for the professionals interested in searching jobs that better fit their lives, companies looking for the right professional on demand to scale and grow their organizations.
Our team has continued to grow and grow. Natalia and Eugenia (Welcome girls!) have just joined to Wisar's group to increase our dedication to making flexibility at work a norm, help more professionals to find their flexible job, and more companies to find their perfect candidate.
We all know the importance of flexibility at work and how hard can be to keep a real work-life balance. We've all had jobs in our past that weren't flexible so we all are aware of its value. And this is why we work hard daily to helping others find flexible jobs that make their lives better.
At the same time, we know that building a flexible team can be difficult and expensive for companies searching for the best candidates, so we always keep our focus on what is best for our clients. We love to see how companies working with us can scale and grow with flexibility.
With this post, we want to celebrate our love of flexibility and highlight the top tips of our team to work in a flexible way.
We would love that these tips will help you to improve your professional path. For the companies, we would like to tell them that with our talent pool of experienced professionals they will be able to find the right candidate for their needs and project and make a real difference to their business.
Are you ready to join the flexible talent revolution?
Here are the Wisar's top tips for flexible and remote working:
1.Jot down your ideas
From Natalia Arango, CMO in Wisar
"I have several notebooks and digital notes organized by topics, there I am writing the ideas that come to me (even working on another subject). Then, when I start to work on a particular topic, I check my notes. It's very useful to get more work done faster."
2.For remote and flexible team leaders: Build trust with employees and boost communication with your team.
From Sandra Arevalo, CEO in Wisar
With trust being one of the key elements of an effective team, it is important and sometimes hard to build an inclusive work environment for remote teams. At wisar, we create it through confidence and trust with remote and flexible colleagues. Each member of the team organize itself to archive objectives and share a high level of commitment to achieving the common objective.
At the same time, "to guarantee the workflow and communication it is key to implement the right agile and smart tools for communication and collaboration and to complete the tasks required. We use for example Slack allowing us a nice workflow and communication, and avoiding us contaminating the personal channels as WhatsApp.
However, weekly team meetings, for example, help us to build a real team, ensure our alignment and company priorities, and prevent feelings as isolation.
3.Don't be afraid and try new ways of working
From Eugenia Gómez, Talent Manager in Wisar
"We are used to staying in our comfort zone and we feel awkward and uncomfortable when we try new ways of living and working. But getting out of our comfort zone, and being responsible for one's actions (with ourselves, with others, with time and with the acquired commitments) we can find out many "human" ways of working and living.
In my personal experience, I value all I learned in large companies, managing schedules and having a hierarchical organizational structure because I learned discipline, responsibility, and commitment. These principles are today really important to me since I'm working in a job based 100% on the trust in others. However, as I start to work remotely, I love all the tools available that make my daily work easier."
4.The rule of the 3 important things per day
From Virpi Jalonen, Talent Manager in Wisar
"Planning and prioritizing your workload in small pieces and scheduling it, you will be sure you have enough time for essential tasks. I usually set my goals for Wisar & The Career Atelier monthly, weekly and daily. By blocking off your most important work time on your calendar, you can continue to let your calendar rule your time without giving up your most precious hours.
The trick is to keep 3 important tasks per day. Then you start your day thinking: "Fine, I just have 3 important things to do today!". At the end of the day you will be happy: "Ok, works is done. I have finished 3 (or MORE!) thing that was the most important."
It's obvious that you can't plan everything. Sometimes things happen and you can't control them, but using this easy rule of the 3 important things per day, you will be sure that important things are done and you can move forward.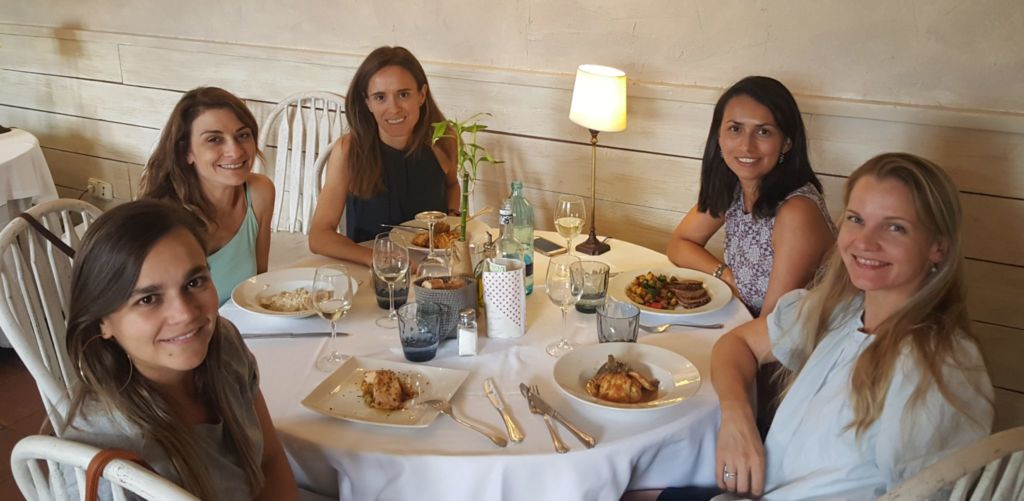 5.Plan and schedule your day every morning
From Sandra Lombana, Biz Dev – LATAM in Wisar
"Plan your day every morning (or the day before) and schedule your day around them. Review your to-do list at the end of the day to make sure everything is done, and reschedule uncompleted tasks for the next day. Use a calendar to plan everything (event, calls, meetings…) and take them into account when planning your week. And of course, you need to be well-behaved and start your day early."
6.Ditch old habits and learn to lead change.
From María López Fontanals, Communications Manager in Wisar
"How often do you complain about your bad work-life balance, your office timetable or your job? Many times we don't allow us to pursue our passions and the truth is that flexible work has a lot of stigmas.
Quite the contrary, flexible working allows you to find a good work-life balance, gives you freedom over your time and location. So, be sure you have a solid plan and don't be afraid to explore different career and lifestyle options if you're unhappy.
7.Build a team culture
Por Silvia Rull, Talent Manager in Wisar
"Working remotely have a lot of benefits but there are also challenges. It might make you feel isolated and you can focus on your goals completely missing the company's and team's priorities. To avoid this kind of mistakes you need to create a good workflow, plan and follow up meetings properly to know and understand what the rest of the team are doing and need."
Readers, do you agree? What are your top tips for flexible working?
We'd love to hear your feedback!