The traditional workspace is rapidly changing and it will have a profound impact on the employment landscape over the coming years. Today's businesses need to evolve and embrace the new forms of the future of work if they want to attract and keep the most talented workers.
More and more companies are implementing flexible working arrangements since they know the positive impact on employee performance.
At the same time, professionals and workers are increasingly demanding flexible work schedules to achieve a better work-life balance.
Today, we talk about flexible working with Virpi Jalonen, Career Advisor at Wisar and Founder of The Career Atelier, where she helps professionals to find a new direction for their career and get practical insight for improving their application and practicing for interviews.
Virpi is a creative career coach and HR professional specialised in talent acquisition & engagement. She is mom of 2 children and married to a Spaniard.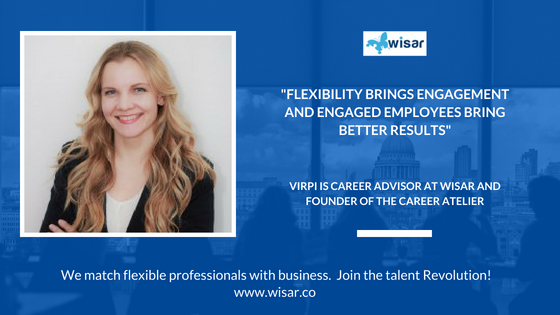 What does flexibility at work mean to you?
For me flexibility stands for happiness that comes through a better work life balance. It's about giving individuals more freedom to organise their work in the most suitable and effective way and enabling international teams to collaborate with ease.
On the other hand it also means you are expected to deliver results no matter where you are located and being available when needed. When feeling in control and given more flexibility, people are also happier to work harder for the common goals.

Have you found differences between your country (Finland) and Spain in terms of flexibility at work?
Before getting to know Wisar, I have been surprised hearing comments in Spain about doubting the benefits of flexibility or that it would be associated mainly with women and family leaves. Back in my home country, Finland, flexibility is seen as more gender neutral. Dads participate a lot more in taking care of the children and it's very common to work from home sometimes or have flexible working hours, especially in the IT and technical working environments.
In the Nordics the companies are generally more supportive on this as I think they are already used to see the benefits of having more engaged workers, which means less retention and better results. I have been so happy about the cooperation with Wisar as we truly embrace the flexibility and it's visible in everything we do. I also see that in Spain the interest and demand towards the flexibility is rising.
What is your professional experience in flexibility? And which would you consider the best benefits as professional?
Right now I'm still on child-care leave from my full time job in Finland and Rovio. When I shared with them my idea of starting a part-time side business while in Spain, they were supportive on this. This way I'm able to fill a dream that I had of starting my own business and from Rovio's perspective they let me grow professionally and gain more international experience before returning and bringing valuable knowledge also back to them. The combination of my own business The Career Atelier together with part time freelancing for Wisar works perfectly for me now as I'm able to organize my working hours so that I get to spend time with my family and work at times more suitable for us.
Flexible working has also benefits for businesses. Which do you think are the key benefits for companies?
Flexibility brings engagement and engaged employees bring better results. This works especially well with performance based compensation: passionate workers, who are being trusted and given responsibility often exceed the expectations.
Ability to work globally despite the different time zones. With flexible working hours you are able to collaborate with international teams, organize meeting schedules that suit to all and keep the information flowing without delays.
Talent attraction. Personally, if it hadn't been for flexible work opportunities, I would not have returned to working life yet and would have stayed longer on child care leave. And I know so many parents who think the same. This also applies to career changers who are not happy at their current employers. By offering flexibility the companies are definitely able to attract more talent!

Virpi's 5 tips for leaders and companies who are thinking of implementing flexible working policies:
Ensure each employee knows exactly what is expected from them. Have clear job descriptions and clear, measurable goals and targets linked into the performance evaluations and rewarding.

Listen to your employees and understand what flexibility means for them and what would be important for them.

Find out the legal obligations and frames and within those, build a clear guidance of your new flexible ways of working utilizing tools that enable smooth communication and collaboration no matter where and when people are working.

You can also set up a "pilot period" and adjust your guidance according to what worked best in your case.

Then the rest is about open communication, leadership and trust.

As career advisor you work with many professionals helping them to make decisions about their future career paths. Are professionals demanding for new flexible ways of working?
I see that there are big changes happening around the future of work and the whole concept of what a career means. New generations are challenging the traditional ways of working and it's becoming more common to have side businesses or multiple careers in totally different industries. Digitalization is everywhere and that means several traditional jobs will be replaced with more automated processes or artificial intelligence. This on the other hand will also create totally new jobs and both we as workers and also the companies need to be able to transform to better meet the future demands. For instance the demand for online career coaching or online recruitment have increased enormously within just the last few years and these are just two great examples on how technology together with the demand for flexibility are taking us forward.

Thank you Virpi for sharing your talent and perspective at Wisar. We are proud to be the first hand beneficiaries of the Wisar talent pool.
Virpi has just launched the inspiring and free guide "5 steps closer to your dream job" . Download and get your dream job!